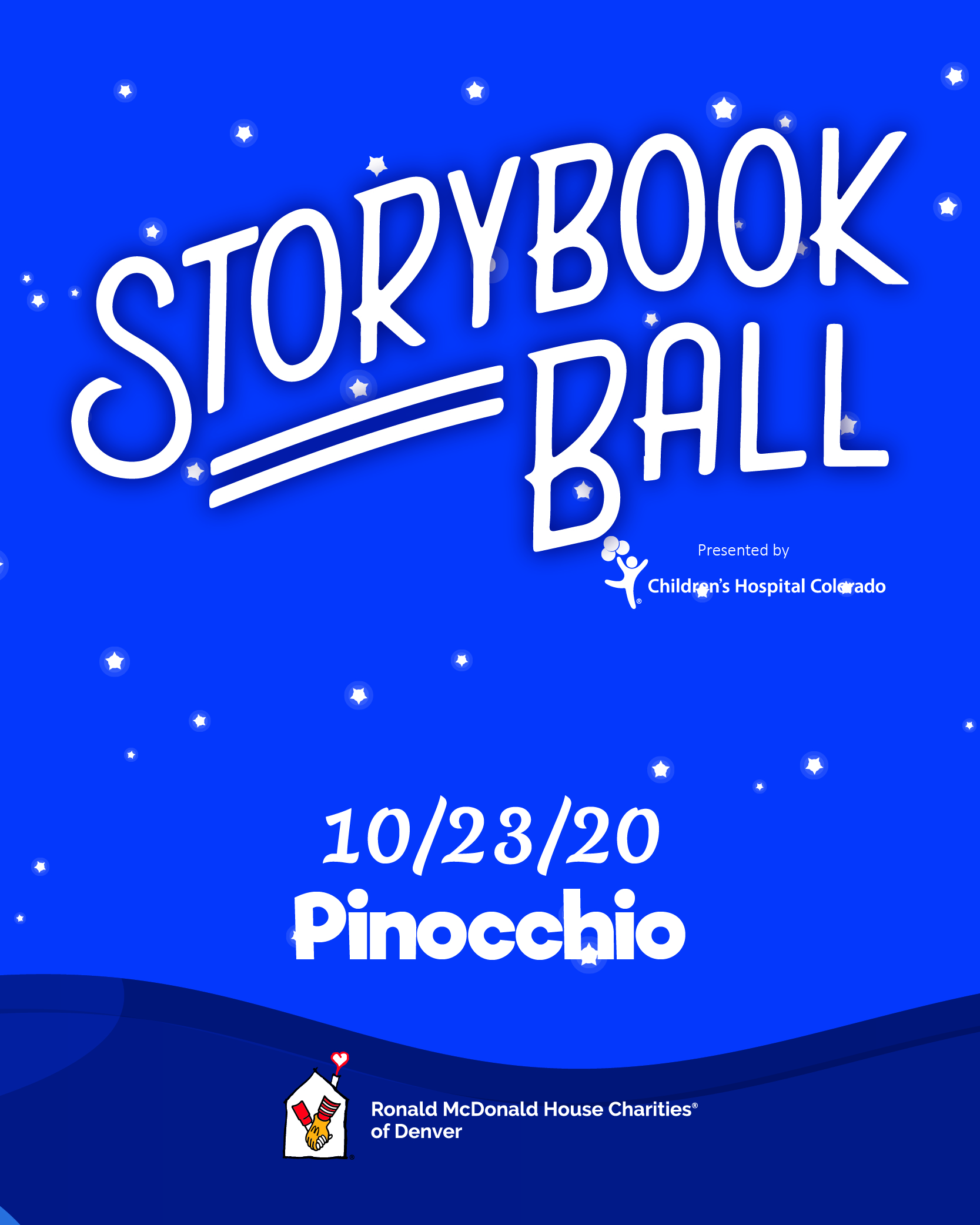 2020 Storybook Ball Postponed Until October 23
Just last month, we were hard at work finalizing plans for our annual Ronald McDonald House-Denver Storybook Ball, this year honoring Pam and Tony Taddonio.  We certainly didn't predict how much our lives would change in just a few short weeks!
The good news is that we are able to re-schedule the event – so please save Friday, October 23, 2020. We'll be at the same location – the Westin Downtown Denver — with a cocktail reception at 6 p.m, dinner and program starting at 7 p.m., all with the fun theme of Pinocchio!
Best of all, we'll still be able to honor Pam and Tony Taddonio for their years of support of the families who stay at RMHC-Denver.
The following Sponsorship Opportunities are NOW AVAILABLE:
Presenting Sponsor, $25,000 (SOLD OUT)
One table (10 guests) located in most preferential seating position
Logo recognition as a Presenting Sponsor on all Storybook Ball printed materials
Logo recognition as a Presenting Sponsor on all event signage
Recognized as Presenting Sponsor from podium & opportunity to speak during the program
Recognition on two customized slides rotating during ballroom presentation
Full-page ad on inside cover of program
Recognized as Presenting Sponsor on RMHC-Denver social media, website and e-newsletter
Platinum Sponsor, $15,000
One table (10 guests) located in preferential seating position
Prominent logo recognition as a Platinum Sponsor on all Storybook Ball printed materials
Recognition on one customized slide rotating during the ballroom presentation
Full-page ad in program
Recognized as Platinum Sponsor on RMHC-Denver social media, website and e-newsletter
Gold Sponsor, $10,000 
One table for 10 guests located in preferential seating position
Recognition on one customized slide rotating during the ballroom presentation
Half-page ad in program
Recognized as Gold Sponsor on RMHC-Denver social media, website and e-newsletter
Silver Sponsor, $5,000
One table for 10 guests
Recognized during the ballroom presentation
Quarter-page ad in program
Recognized as Silver Sponsor on RMHC-Denver website and in e-newsletter
Patron Sponsor, $2,500
One table for 10 guests
Name recognition as a Patron Sponsor at the event