Pop Tab Collection
Keep Pullin' for the Denver & Aurora Ronald McDonald Houses
Basic information and history of campaign
Collecting pop tabs is a great way to teach kids about philanthropy and the importance of recycling while raising funds to help children and their families at the same time. Some of our Chapters raise thousands of dollars with their pop tab collections – up to $30,000.
How the program works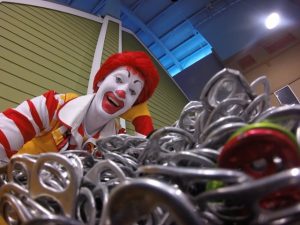 Aluminum beverage can tabs are collected and sold for cash. Of course, the entire can could be recycled, but it would create a very difficult problem for delivery and storage. The tabs have captured the imagination and interest of thousands of collectors.
These little pieces of metal can make a big difference!
Pop tabs can be delivered to either the Denver Ronald McDonald House (1300 East 21st Avenue, Denver, CO 80205) or the Aurora Ronald McDonald House (932 Potomac Circle, Aurora, CO  80011). They are then taken to the recycling center.
In- or out-of-state groups can recycle the tabs themselves and send the proceeds to the Ronald McDonald House, as well.
This project continues to be a success because it makes it possible for any individual or group to make a contribution. It is an easy and fun task for young and old and a great way to lend support to children and their families during a time of crisis.
Fun Pop Tab Fact
Equivalencies
1 inch = 1 pop tab
1 foot = 12 pop tabs
1 meter = 400 pop tabs
1 lb. = 1,267 pop tabs
1 km = 40,000 pop tabs
1 mile = 63,360 pop tabs