TEAM RMHC
Calling All Athletes!
Pick your event, plan your training and prepare for your strong finish. Now, give your heart a real work-out by joining Team RMHC and help a family in need.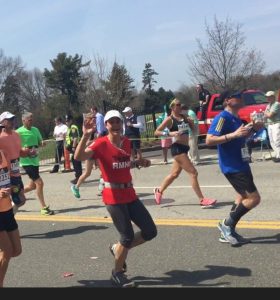 It's a great opportunity to fundraise while doing what you love. You pick the event, you plan the training, you raise the money. It doesn't matter what event you participate in. You decide!   There are no minimum fundraising goals, so you set your own goal! Involve your family, friends, co-workers … everyone you know!  Here's an easy example:
To raise $325, you could:
Kick start your campaign with a personal donation of $25. ($25)
Ask your spouse/parent/family member to match your donation. ($75)
Ask five of your co-workers to donate $5 each. ($25)
Ask your boss for a company donation. ($100)
Ask for a Team RMHC donation in your honor, in lieu of a birthday gift this year. ($40)
Approach businesses that you frequent for a donation. ($50)
Ask someone you have previously supported for a donation. ($10)
Your donations support families at the Ronald McDonald House and the Ronald McDonald Family Room. Join in our efforts to help families of seriously ill or injured children when they must be away from home to seek medical treatment for their children. 100% of all donations made by Team RMHC members and their supporters go to RMHC Denver programs.
For more information, or to Join Team RMHC, Denver contact Jonna Busack at 303-832-6641.