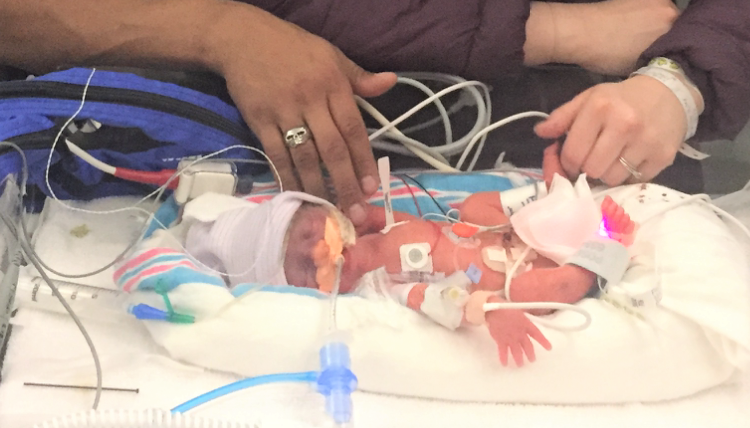 Preemie Birth Helps One Family Understand How RMHC-Denver Keeps Families Close
Riley Fischer admits that, until a few weeks ago, she didn't really know anything about Ronald McDonald House Charities. "I had seen the collection boxes at McDonald's, but I really didn't know what the money was for."
Riley knows now. In fact, she has first-hand knowledge because she has been a guest at the Denver Ronald McDonald House since March 14th, the day after her son Edwin was born prematurely during an epic blizzard.
The day before Edwin's birth, Riley was recovering from a bout of the flu and experiencing contractions. Doctors in her hometown on Sidney, NE said dehydration could cause contractions, and treated her with IV fluids.
By the end of that Tuesday night, the contractions had subsided and Riley went to sleep feeling relieved.
Within hours, her relief was replaced by growing fear. She awoke with contractions, so her husband, Dustin, ventured into the storm for a prescription medication intended to stop the contractions. By mid-afternoon, though, the contractions were stronger and more frequent. Despite the now-raging storm, Dustin insisted they make the five-mile drive to the hospital.
Riley recounts that it was nearly impossible to navigate the roads, and visibility was near zero. And then her water broke. "I was terrified," said Riley. She felt an overwhelming need to push, but knew she needed to hold off birthing Edwin until they reached the hospital. She insisted that Dustin pull over and call 9-1-1. A Sidney police officer was able to find the couple and their three-year-old son Pierce, and escorted the family to the hospital.
Less than an hour after they arrived, baby Edwin was born, weighing about 3 pounds. At just 29 weeks gestation, his lungs were underdeveloped – and the hospital was not prepared for a premature infant. Edwin needed a pulmonary medication to keep his lungs inflated and lubricated, and there was none in Sidney.
The hospital contacted the Rocky Mountain Hospital for Children, which located the drug at the hospital in Sterling, Colorado. A tag team of law enforcement officers – Logan County Sheriffs, Nebraska State Patrol, and Sidney police – drove through white-out conditions to relay the life-saving medication to Edwin.
Edwin survived through the night, and the next day, after the storm had passed, Riley accompanied him when he was airlifted to Denver and admitted to the Neonatal Intensive Care Unit at Rocky Mountain Hospital for Children.
It was after Edwin's admission that Riley and Dustin learned about RMHC-Denver: A social worker at the hospital told the couple she was able to secure a room for them and they could stay at Ronald McDonald House for the duration of Edwin's hospitalization.
Riley now says she can't imagine what she would do without the House. "Oh my gosh, I couldn't even begin to think about what I would do. First of all, it would be so expensive. And the financial burden is already so high. Being able to stay here takes such a weight off my shoulders, at a time when there is already so much stress and pressure."
Riley noted that the House offers more than just a place to sleep. "The volunteer meals are amazing. And so many of the volunteers make a point to talk with us, too. But in this situation, just having a warm meal is something to be really thankful for."
And Riley said that the House has become a source of comfort and support. "You automatically connect with the other people staying here, because you're all going through the same thing." Recently, at a group meal in the kitchen, she connected with another family that also has a premature infant. The moms share daily updates on their medical journeys, and a bond that comes from shared experiences. "I have new friends now, and we'll probably be friends forever."
Riley is happy to report that Edwin – now at 32 weeks gestational age and weighing 3 pounds, 8 ounces – is doing well. "His heart is good, his brain is good. He's tolerating his tube feedings well, and he's gaining weight." Edwin was off his ventilator once, and it remains the only time that Riley was able to hold her son – yet she remains positive and looks forward to Edwin's daily care times, when she can work with nurses to clean him and touch him. Dustin has returned to his job as a heavy equipment operator, but is able to visit every weekend.
Riley is optimistic about Edwin's progress, and grateful to all who have helped her son, from law enforcement officers to doctors and nurses to the donors who support RMHC-Denver. "You don't think about the needs of families with sick children until it happens to you. And then you realized how important it is. Even the little things. Like when I flew here to Denver with Edwin, I didn't even have shampoo and conditioner with me. But when I got to my room, there was shampoo and conditioner waiting for me." Riley said that if she could speak to the donors and volunteers of RMHC-Denver, her message would be simple: "I would tell them that it matters. Your support really matters. People who have a hand in this make such a difference for people like me."