Provide a Meal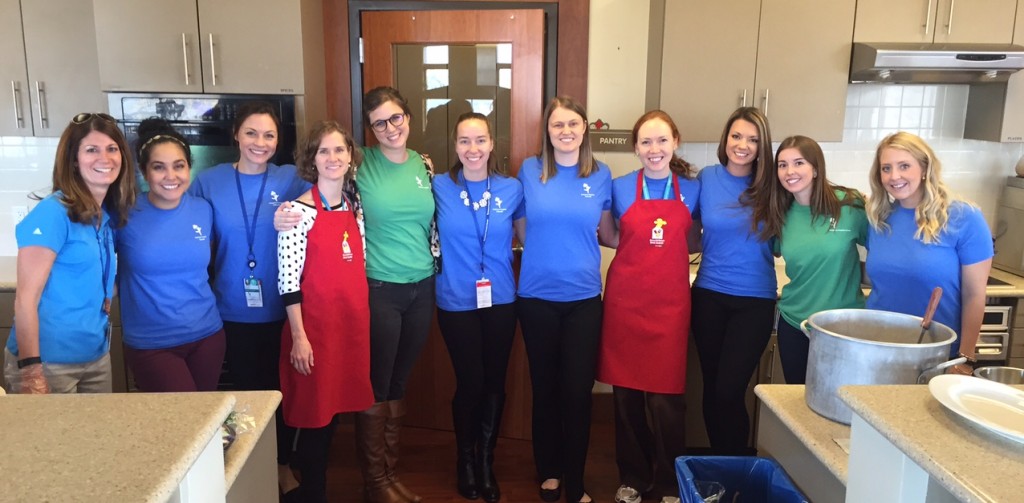 Note:  Meals prepared and catered by outside volunteer groups will be paused until further notice. Our staff will continue to make every effort to provide meals for our families.  Individuals and groups can help by making cash donations to help cover the cost of food or by mailing Costco, Safeway or King Soopers gift cards to RMHC-Denver.
One great way to help the families at either Ronald McDonald House (Denver or Aurora) is by providing them with a home cooked meal when they don't have the time, energy or money to prepare it themselves. You will never forget the appreciation on the faces of the families as they sit down to share a meal together. Breakfast, Lunch or Dinner providers are needed. Groups of 5-10 are recommended for this opportunity, as you are asked to provide food for 15-55 people depending on which House and meal you choose to serve. You can do breakfast, lunch, or dinner at the Aurora or Denver House, whichever might work best with your schedule!
What You Need
We ask your group to provide the food and drinks to feed our families.  We have microwaves, ovens, stove tops, pots, and pans. We also have plates, silverware, cups, and napkins! All food must be prepared in our kitchens or in a commercial kitchen. After our families enjoy your home-cooked meal, you can clean up the kitchen and celebrate yourselves for helping to make someone's day a little brighter.
Please read the Meal Program Manual above before signing up for a meal.
Fast Facts:
Read the Meal Program Manual
Meals must be prepared in our kitchen or in a commercial kitchen.
All volunteers must be at least 13 years old.
For meals at the Denver House through July 31, schedule here
For meals at the Denver House from August 1 and beyond, schedule here
For meals at the Aurora house through July 31, schedule here
For meals at the Aurora House from August 1 and beyond, schedule here
Questions? Contact Stasi McMurchy at 720-382-7221 or amcmurchy@rmhc-denver.org
For an accessible version of the Meal Program Manual, contact Jonna Busack at 720-382-7203