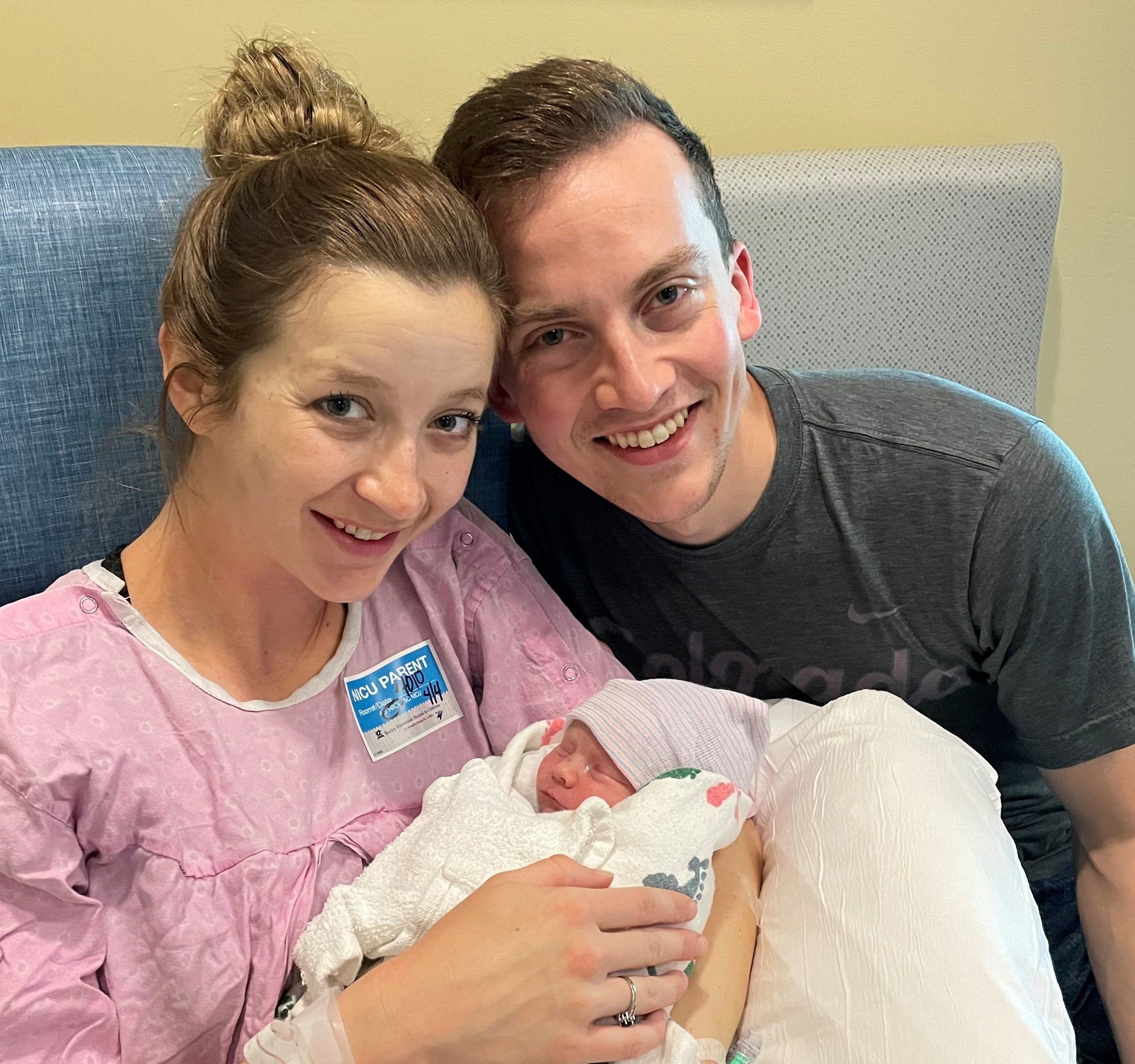 28 Apr

A Place of Comfort During "the Worst Days of Our Lives"

For young couple Heath and Ashlynn, starting a family was carefully and purposefully timed. They spent the early years of their marriage traveling and enjoying each other – even taking both sets of their parents on their dream vacations. So, when Ashlynn got pregnant in August 2021, the Casper, WY couple felt as if everything was going according to plan. Until it wasn't.

At her routine 20-week check-up, Ashlynn learned that she was already dilated to 2cm. Concerned that it was much too early for her to deliver, her doctor sent her to a Denver hospital for emergency care. There, she underwent an emergency procedure to stitch her cervix with the hope of delaying her delivery for another four weeks, at a minimum. According to Ashlynn, at 2cm the procedure doesn't have a high success rate, leaving her frightened and feeling they would likely lose their baby.

During that time, the Denver Ronald McDonald House provided a loving and supportive home away from home for the couple, just blocks away from the hospital

After being released from the hospital, Ashlynn and Heath returned home to Casper, but in the weeks that followed, multiple scares sent them back to Denver.  At 25-weeks pregnant, doctors made the decision to continue Ashlynn's medical care in Denver.  For Ashlynn, the news came as a bit of a relief knowing that they would again stay at the Denver House and near her care team, should they need them.

"Ronald McDonald House is a place of comfort.  A community of supporters. It was our saving grace," Ashlynn said.  "Going through this felt so isolating. No one knew exactly how I felt unless they were going through it too," she added.

This time the couple stayed at the Denver Ronald McDonald House until Ashlynn delivered a healthy baby girl, 10 weeks later. They named her Eleanor Viola and they call her their "biggest blessing."       

Looking back, Heath and Ashlynn say their medical journey was the hardest 100-plus days of their lives.  But, the support provided by Ronald McDonald House Denver helped ease their stress.

Being in Denver also gave the couple the chance to be together and enjoy some unexpected activities.  "Once Ashylnn made it to 28-weeks, we felt more comfortable getting out more, explained Heath."  "With tickets provided by donors, we were able to go to the zoo, aquarium, and even went to a Denver Nuggets game.  Those are things we never would have done otherwise," he said.

Because of you, RMHC-Denver can be a place of comfort and care for families like this.  And for you, Heath has one message:

"When you give to RMHC-Denver, you're assisting to meet a basic need — shelter.  But that's just the beginning. Our stress is gone. The direct and indirect services provided are priceless," he said.