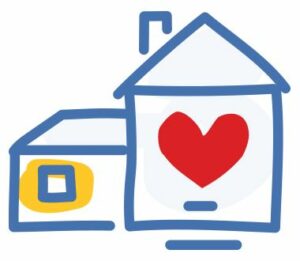 Current Board Initiative:
Refresh the Aurora House Guest Rooms  
Deadline: On-going
Make a Contribution
Here are several ways for interested parties to support RMHC-Denver. 
A small script, along with links to more information and the appropriate staff contact, is included with each option. 
Want to share all of the options with your contact?  The button at the bottom of the page lets you download a pdf that you can save and share.
Sponsor a Fundraising Event
Sponsors of our fundraising events can boost their brand awareness, reach a target audience, and provide employees with the opportunity to engage.
Our Events:
Light The Houses Radiothon
This December 1st event is a 12-hour live broadcast on KOSI 101.1, held in the lobby of the Denver Ronald McDonald House.  During the event KOSI on-air talent spends the day sharing stories of the families who stay at RMHC-Denver and asking listeners to donate. Sponsorships range from $25,000-$1,000.
The Storybook Ball
A classic gala, including dinner, a program and live and silent auction.  Event will be held on Friday, June 3, 2023, at the Denver Botanic Gardens.  Sponsorships range from $25,000-$2,500.
Staff Contact – Sponsorships: Jonna Busack
Refresh-A-Room
Providing more than 25,000 total family nights each year means significant wear and tear to our Guest Rooms. In our Aurora House, all of the carpeting and most of the furnishings in the Guest Rooms are nearly 15 years old and in need of replacement.  A Refresh-A-Room sponsorship gift will be used immediately to help replace carpeting, paint and purchase bedroom furnishings, including (per room): Two headboards and bed frames, nightstand, desk and desk chair, dresser, upholstered chair & lamps. One of our 45 rooms can be refreshed for $5,000.
Plan a DIY Fundraising Event
Organizing and presenting an event designed to raise funds and awareness for RMHC-Denver is a great way to engage employees and support a great cause.  DIY fundraising opportunities are plentiful and we'll be with you every step of the way.
Volunteer
There are a number of ways for your group to volunteer at RMHC-Denver including providing a meal to our guest families through our volunteer meal program, organizing a wish list drive and more!  We can match your talents to our volunteer needs to provide a meaningful teambuilding opportunity for your crew.
Provide a Service or Product that Supports our Mission 
From plumbing or electrical to IT or snow removal, we're always looking for companies to provide a service or product that will help defray the costs of running two Houses.  It's a great way to showcase your products or services.
Elevator Pitch
When families have a seriously ill child and need to travel to Denver seeking medical treatment, they can turn to Ronald McDonald House Denver to find a home away from home, at no cost.  For as long as treatment takes.
With two Houses — one in Denver and one in Aurora — RMHC-Denver can accommodate thousands of families each year.  The Houses offer 118 spacious rooms with private baths, plus and array of community spaces including kitchens, laundry facilities, libraries and playgrounds.