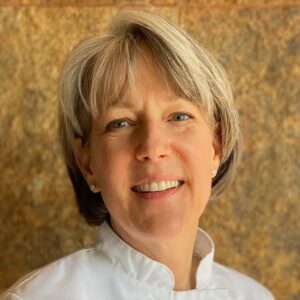 Chef Mary Fabrikant earned a BFA from Carnegie Mellon University in Pittsburgh, an MBA from Pace University in New York and an AS in Culinary Arts from Johnson & Wales University in Denver. From 2001 – 2018, Chef Mary used all that excellent education to perfect the craft of kosher catering as owner of La Vie Catering, crafting every occasion from small "Big Birthday" parties to elegant, high-end events. A native North Carolinian, Chef Mary feels passionately about hospitality, good food and smooth service as key components of any festive gathering. "The warmth and care guests feel at any occasion is in direct proportion to how much the guest's needs were considered during the planning process. Add flawless execution and delicious food and… Voila! A memory is made."
Chef Mary feels fortunate to live in this food-centric era and enjoys sharing her culinary enthusiasm and experience with students, both in her ten-year stint as a Chef Instructor at Johnson & Wales, at Cook Street School of Culinary Arts and now with volunteers at RMHC-Denver. "The "eureka!" moments students experience when they suddenly understand the "why" behind a cooking technique are why I love teaching. I recall having those same first-time realizations and know that those are leaps-and-bounds moments for a cook. "
Outside of the kitchen, Chef Mary enjoys reading, gardening, live theatre, hanging out with her husband and dog and following the escapades of her two twenty-something children.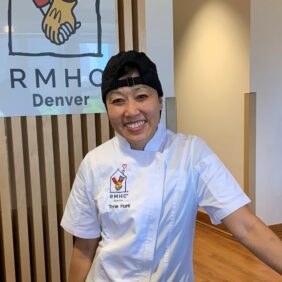 As a parent of children requiring significant medical support, Chef Torie understands the impact of hospital stays on families. Throughout the years, she has said to herself and others, "If I could be in charge, I would provide delicious, nutritious meals for hospital families." And finally, the stars aligned.
Cooking for RMHC guests is deeply personal for Chef Torie. The road traveled by special needs families can be lonely and weary. She hopes to express her love for the guests through gentle words of kindness and a thoughtfully prepared meal.
A 1996 graduate of Colorado State University with a B.A. in Speech Communication, she worked in promotion and sales at a local Denver news station. A few years later she exited the workforce, where she spent the next twenty-two years being a stay-at-home mom. During that time, she catered her husband's film sets in Los Angeles, and it was there her cooking spark ignited into flame.
Well into her middle-age years, she attended Denver's Cook Street School of Culinary Arts, proving it is never too late to return to the classroom.
Outside the kitchen, she is a voracious runner, traveler, and Disney theme park fanatic. But connecting with her husband, four children, and friends is her most cherished roll.