19 Jan

Thanks to all who supported the Light The Houses Radiothon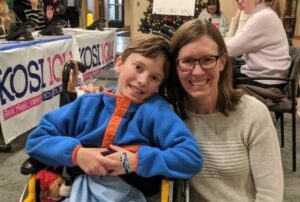 Despite a much different look this year, the annual Light the Houses Radiothon was a success by all accounts.  Virtual was the name of the game as KOSI 101.1  talent kept the broadcast within their own studios and a very small number of volunteers were at RMHC-Denver to man the phone bank.  But the goal of raising funds to support families who stay at RMHC-Denver didn't change, of course.  And, together, sponsors, listeners and Ray of Hope donors helped to raise over $200,000 for families of sick children who are staying at RMHC-Denver.
Now in it's 12th year, the Radiothon is a 12-hour LIVE broadcast (6a-6p) from the Denver Ronald McDonald House.  During this heartwarming event, KOSI on-air talent (along with a few special guests) spend the day playing Christmas music and sharing stories of the families who stay at Ronald McDonald House.  Listeners are encouraged to call-in and make a donation to support our mission.
Planning for the 2021 Radiothon will be underway soon and, as always, sponsorships and volunteer opportunities are available.  Stay tuned for more details, or learn more now by contacting Jonna Busack.
The 2020 Light The Houses Radiothon presented by:

With, special thanks to: