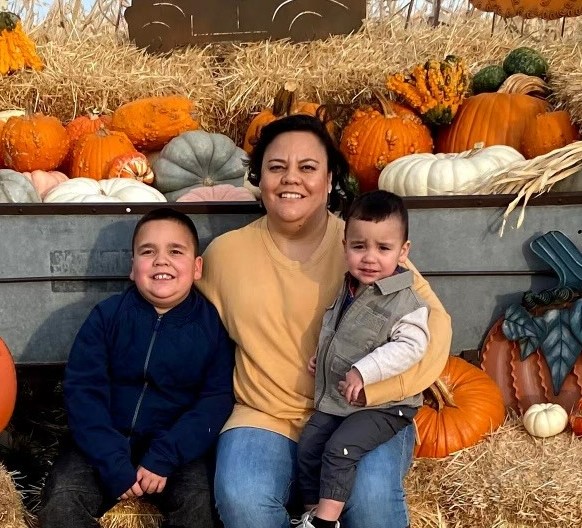 28 Feb

RMHC-Denver Brought this Family Together During the Pandemic

Hearing stories of families affected by the pandemic are certainly not uncommon these days.  But, this one is a little different.  For the Rosas family, the pandemic brought hardships and togetherness that they never expected.

On November 9, 2021, Erica Rosas, about 6 months pregnant and living in Wray, Colorado, was diagnosed with COVID.  Unsure of how best to treat her without affecting the unborn baby, local physicians made the decision to transport her to Presbyterian/St. Luke's in Denver, about 2 ½ hours from home.  With her condition worsening, doctors there made an emergency decision to deliver her baby via c-section.  Just four days later, Baby Mia was born.

Born at 25-weeks, Mia was a micro preemie and faced a long stay in the NICU.  Meanwhile, Erica's condition drastically worsened to the point that she was put into a medical coma before having the chance to hold her baby girl.

With mom and baby separated, Erica's mom, Irene, and sister, Cynthia, rushed to Denver – Irene traveling from Mexico and Cynthia from Wray – to care for Mia and for Erica.  With nowhere to stay, hospital social workers referred them to the Denver Ronald McDonald House, where they are today.

"Everything changed so fast," said Cynthia reflecting on the story.  "At first, we didn't know what to expect when we heard about Ronald McDonald House.  But, it's an amazing place.  You get your own room, so it really feels like your own house," she said.

The story doesn't end there, however.  While events unfolded in Denver, Erica's two other children – Andre (9) and Edrik (3) – were still at home in Wray.  Because he is in school, Andre remained in Wray.  But with no one available to watch him all day, Edrik joined Irene and Cynthia in Denver.   Today, Cynthia says she spends her days watching Edrik and getting Irene to and from the hospital where restrictions mean that Irene is the only person allowed to visit Mia.  And, she makes daily Facetime calls to Erica, no longer in a coma and now recovering in a medical facility in Wray.

Cynthia calls Ronald McDonald House "a lifesaver" and says she doesn't know what the family would have done without it.   "We have another sister who lives in Strasberg, and we probably would've stayed there and driven about an hour to get to the hospital.  Or stayed at a hotel, which would've gotten pretty expensive" she said.

Today, the outlook for the Rosas family is much more positive.  Baby Mia continues to grow and thrive and Erica's health is much improved, though not to the point that she can travel to Denver.  Her daily visits with Mia and her family via Facetime keep the family connected and she's looking forward to a reunion soon, and the chance to finally hold Mia.