Group Volunteer Opportunities
Bring your friends, family or co-workers and make a Dinner for our families.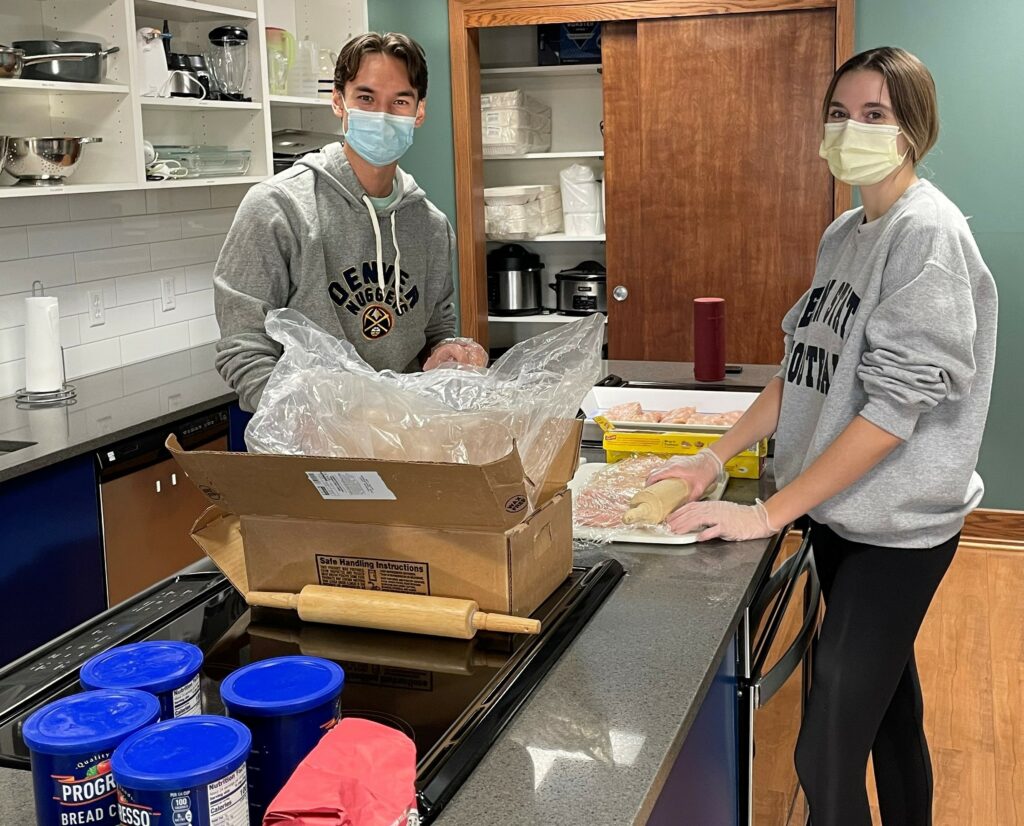 After a long day at the hospital, our families look forward to coming home to a warm meal that is ready to eat! We are looking for groups of up to 8 people to prepare a menu, purchase the ingredients, cook and serve the meal to our families in our kitchen.
DINNER REQUIREMENTS
Plan to prepare enough food for at least 50 people. For reference, our Aurora house can serve up to 45 families per night and our Denver House can serve up to 73 families. However, not all families will attend dinner!
There is a monetary commitment for this opportunity: The group is responsible for preparing a menu and purchasing all of the food ingredients.
Confirm your menu with the Volunteer Manager as soon as you can. At least 1 week before, as we advertise the upcoming week's menu throughout the facility.
RMHC will provide cookware (suitable for cooking for large groups), kitchen supplies and basics (gloves, cleaning supplies, paper towel, etc.) needed. Our kitchen is very large with ample space for food preparation. It has multiple stovetops, ovens, dishwashers, and many appliances for your use.
All food must be prepared in our facility, a commercial kitchen or packaged from a store. No meal preparation can be done in advance!
If you have leftover food, you can make up to 15 to go meals for families who may have missed dinner. To-go containers will be provided by RMHC. If you have more food leftover after preparing the to go meals, you must bring the food home with you, due to limited refrigerator space at RMHC.
You may arrive whenever you want (no earlier than 2 p.m.). Arriving between 3-4 p.m. will give you 2-3 hours to cook the meal and have it ready to serve by 6 p.m. From 6-7 p.m. families will enter the kitchen/dining space to be served dinner and enjoy it in our dining room.
VOLUNTEER REQUIREMENTS
Due to current COVID-19 guidelines, we are only allowing groups of up to 8 volunteers.  We plan to continue to increase volunteer group size in the upcoming months.
All volunteers must be 14 years of age or older. Volunteers between the age of 14-17 must have a parent/guardian with them.
Parents/guardians must register and sign up for the date in VolunteerHub. Volunteers 17 and under do not need to sign up online and will be given waivers to fill out and bring to the volunteer opportunity.

Volunteers must be fully vaccinated for COVID-19. We will ask that you sign a waiver stating you have received your vaccination. All volunteers must wear a face mask at all times while volunteering (regardless of vaccination status).
To reserve a date on our calendar, we first need 1 volunteer to act as the Group Leader and register with our VolunteerHub site and reserve a date. Once the date is reserved, we will reach out with registration instructions for the other volunteers. Please see below for the links to sign up.
Meal Suggestions
We recommend foods that are easy to prepare in bulk and able to be cooked in 3-4 hours (example: 1 main dish, 1-2 sides, and 1 dessert)
We encourage you to get creative with your menu and ask that you consider serving something other than spaghetti with meatballs. Since that is the most popular dish groups make, if there is already a group signed up to make spaghetti with meatballs the week you are coming, we will ask that you change your menu.
Main Dish Ideas: Lasagna & Pasta Dishes, Mac and Cheese & Casseroles, Wraps, Soups and Salads, Chili, Meat/Veggie/Starch, Ethnic Dishes (Enchiladas, Stir Fry, etc.)
Side Ideas: Fruit, Bread, Chips, Veggies, Salad
Dessert Ideas: Brownies, Cookies, Bars/Bites
Drink Ideas (individual servings/bottles and unopened): Water Bottles, Juice Boxes
DINNER SIGN-UP
Choose a Group Leader. The Group Leader will register on our VolunteerHub site first. The Group Leader will choose a date and sign up, reserving the date for your group.
Once the date is reserved, the Volunteer Manager will be in touch with the Group Leader with registration instructions for the rest of the group.
Once the group is all signed up, you will receive email notifications with parking and arrival instructions and other important information. The Volunteer Manager will also be in touch to confirm your menu and answer any additional questions.
Please check back for updates on our volunteer program opportunities! Questions? Email Kiley Erlandson at kerlandson@rmhc-denver.org or call at 720-382-7221.